The Senate Properties has chosen Rapal's Optimaze Worksense smart office solutions as their space utilisation analysis tool. The software provides users a real time snapshot of the utilisation rates of workstations and meeting rooms. Additionally, analysis and reporting of collected data is also included in the software tool.
Optimaze Worksense smart office solutions supports hybrid work capabilities and provides employees, property managers, and work environment developers with the tools to plan and implement a controlled and secure return to the office. Worksense streamlines an employee's workday by enabling the view of data even before they arrive at the office.
"We in the Senate had identified the need to measure the occupancy rate of our premises. We had a similar service in the test, after which a public tender was held and Rapal had won it. We see Worksense as a good tool when considering future hybrid work and possible changes in the work environment. With Worksense, we can see the live occupancy rate of our premises and, if necessary, be able to react quickly to the space's needs or changes. From the point of view of our customers, we want the solution to bring ease and smoothness to working environments." Says expert Niko Kauhanen, Senate Properties.
It is possible to add features in the Worksense service, such as IoT sensors that measure indoor air quality, allowing automatic real-time analysis for optimizing and developing a company's indoor spaces. For space management, information on condition is very important, and the visualisation of said information provided to the employee must be easily read too. The IoT devices can measure Co2, temperature, humidity, and air pressure which are all particularly important for employee wellbeing and productivity.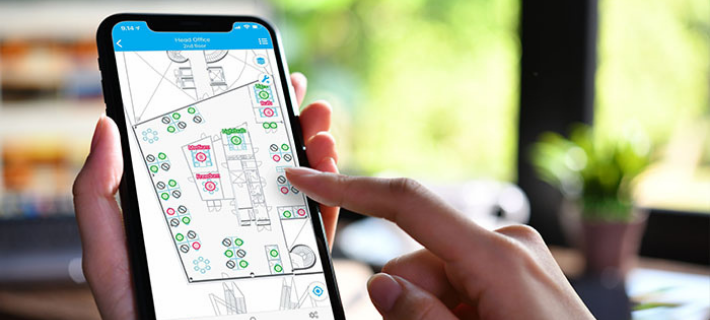 Deploying Optimaze Worksense is effortless. Employees can make better use of their activity-based work environment via easy-to-use mobile application. For example, users may need to find and reserve vacant meeting rooms, making service requests and reporting problems that need to be fixed in a timely manner. In addition, navigation of the building with a digital floor plan is also made easy. Status information of workstations and meeting rooms can also be viewed on the lobby screens, information boards and on the laptop. Further support for the iOS and android mobile apps,  in local languages, are also possible.
Optimaze Worksense, SaaS, is a vendor-independent solution that can connect to any IoT sensor as a device diagnostic platform. The system utilizes Optimaze floor images and status information. Read more about our work environment solutions.
Senate Properties is a business entity under the Ministry of Finance, which acts as a partner to the state administration in all matters relating to the working environment and business premises. More information at www.senaatti.fi.
Would you be interested in hearing more about our work environment solutions, or perhaps the asset management of your building environment? Contact RAPAL here, and our specialist will contact you as soon as you wish.