Connected Airwits Co2 Plus
Connected AirWits CO2 Plus, similar to the original AirWits CO2 device, is a connected carbon dioxide (CO2), temperature, and humidity metering device with 3 colour dynamic E-ink displays for real-time and accurate indoor air quality monitoring with ultra low lifetime costs.
With default settings, the device displays readings every 10 minutes and indicates high/low levels of CO2, temperature and humidity measurements. Data readings frequency is configurable for an extended battery lifetime, and can go up to several years more than the default of 5 years lifetime. Furthermore, the device utilises the worldwide 0G IoT-network for connectivity in data transmissions, enabling very low lifetime costs, security and reliability, and scalability.
Connected AirWits CO2 Plus is best fit for environments that need more on-site, and frequent readings such as sports halls, or classrooms. Like all our devices, they are capable from being independent to any existing Information Technology (IT) infrastructure, and no connection to an electrical supply is needed. Simple, maintenance-free, ultra low cost, powerful, and accurate – our solution for indoor air quality made available.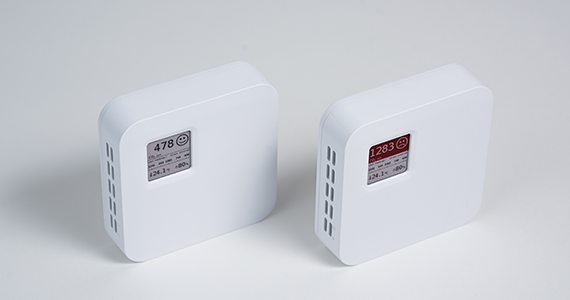 | | |
| --- | --- |
| Casing: | ABS plastic for indoor use |
| Size: | 100 x 100 x 32 mm |
| Weight: | 226 g |
| Battery: | 4 x A 3.6 V |
| Battery lifetime: | Up to 5 years with power control setting on |
| Default screen update interval: | 10 mins (configurable) |
| Display: | 1,52" with 3 colour E-Ink |
| CO2 range: | 0 … 5 000 PPM |
| Operating temperature range: | 0 … 50°C |
| Operating humidity range: | 0 … 85% |
| Screen's operating temperature range | 10 … 50°C |
| Accuracy: | 30 PPM or three percent of the reading in 15-35°C /±0.2 °C / ±2 % |
| Connectivity: | Sigfox RCZ1 / RCZ2 / RCZ4 / RCZ7 |
| Warranty: | 1 year |
| Product code: | CICOP-3019-R0101 (RCZ1) / CICOP-3219-R0101 (RCZ2) / CICOP-3419-R0101 (RCZ4) / CICOP-3719-R0101 (RCZ7) |
For more details or inquires, please fill in the form below: